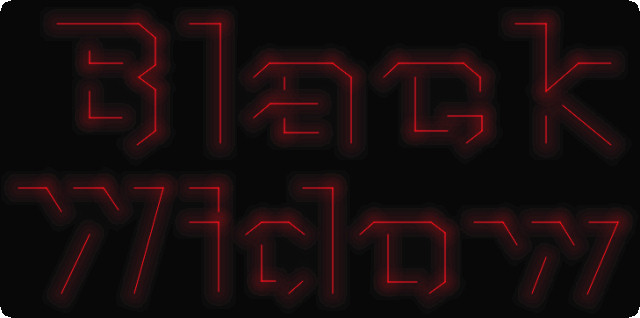 Black Widow is an arena-shooter, where the object is to defeat the insects and get as far as you can. As a spider in the center of the web, you must defend it and yourself from invading bugs. These foes will try to run into you, blow you up if shoot them, or fire rockets at you if you do not kill the other enemies! It has been accurately described as a cross between Robotron: 2084 due to one joystick being used for movement and another one for firing. Does not have as many objects on the screen as Robotron but gets VERY INTENSE!
| | |
| --- | --- |
| | Download for Windows XP and above. (5.5 MB) |
| | This one is also for Windows, but using OpenGL instead of DirectX. Try this one if the one above is too slow for you. (5.5 MB) |
| | Download for Mac OSX (Intel). (6.0 MB) |
Current Windows version v1.0 (released October 8th, 2012).
Current OSX version v1.1 (released December 28th, 2012).

MAC OSX note:
Please be aware, that the games I've ported to OSX doesn't run on newer OS's. I bought my MacBook Pro in 2011 and have never updated it, so I can assure you that the games still work. BUT Apple has removed "Legacy support" from their operating systems, and since the language I've used hasn't been updated to support newer OSX versions, the games won't run on on newer and updated machines.
The original arcade game was developed by Atari and released in 1982, but has now been remade with glowing vector graphics (can be turned off, though), while retaining its great and frantic gameplay.
Here's three screenshots from the game.
Gameplay description (from klov.com):
The game is a fixed shooter and is very similar to Robotron: 2084 by Williams. Unlike Robotron, Black Widow does not have as many enemies on-screen. However, the gameplay has been characterized as just as intense as its Williams counterpart. This is because in order to destroy certain enemies, the player must lure other enemies into destroying them. It is further differentiated by the Bug Slayer, a bug that helps the player eliminate enemies, with only loss of potential points being the only consequence. The Bug Slayer can help the player in tough situations, but can also prevent the player from achieving the number of extra lives necessary to endure later, more difficult, rounds. Also, other enemies appear on the playing field as eggs, laid by other enemies. The player can move these eggs off the playing field to both eliminate the enemy and receive points, before it reaches maturity. Coloured lines on the web will allow or restrict movement of both player and enemies.
Enemies and Scoring:
The key to playing this game is based upon the various enemy bugs' powers and characteristics plus the value of the bonuses that are collected:
Grub Steak ('$') – Tag these for 500, 250, 100, or 50 points—the sooner the better.
Mosquito – Lays an egg on '$', but if shot, becomes '$'.
Hornet – Lays an egg on '$', but if shot, becomes '$'.
Beetle – Eats '$', but if shot, becomes '$'.
Egg – Grows to become hornet or spoiler. Must be pushed off the web to score 500, 1000, 1500, 2000, or even 2500 points.
Spoiler – Invulnerable.
Grenade Bug – Explodes if shot. The resulting chain reaction from multiple Grenade Bugs is very dangerous and can encompass over 80% of the level at some times, depending on how many Grenade Bug are involved.
Rocket Bug – Invulnerable. Launches "rockettes" at black widow from the other bugs it tags. Shoot rockettes to score 100 points each.
Thunderbug – If shot, it breaks formation and attacks. If shot again, it explodes.
Bug Slayer – Harmless to the player and invulnerable. The Bug Slayer competes with the Black Widow for food. Beat it to its flashing prey for points.
Installation:
On Windows; Unpack the ZIP file and you'll end up with a folder called 'Black Widow' which contains the game files. Run the file with the spider icon to run the game. The game has been tested on, and works on (at least) Windows XP, Vista & Windows 7.
On Mac; Mount the DMG file and drag the game to where you want it. Run the game from the program which is identified by an icon with a spider on it.
The game will write a configuration file to the game folder. To reset the settings just delete this file. A new one will be written instead.
Controls:
Use the ARROW keys to controls your spider, and ASDW to fire in each of the four directions.
All keys can be redefined to whatever you want.
The game can also be played with a gamepad, and I can confirm it works with my Logitech Precision controller and my Wired Xbox 360 USB for Windows gamepad. It seems to work with a Sony Dual-Shock controller too – if you lower the sensitivity from the configuration menu. I can't guarantee it works with any other gamepads then the ones named, but give it a try – it might work.
Legal Blurb:
This game is FREEWARE and must remain freeware. The game can generally be distributed however you want, as long as all the files are included and unchanged. It shouldn't be sold or given away on any kind of compilation without my permission. I would like to ask, that if you're going to include this game on a CD for a magazine or somewhere else, that you contact me first – I would like to know what kind places my little project goes…also it shouldn't be asking too much, but then I'd also like a copy of the magazine or CD.
Copyright:
This remake was programmed by Søren Borgquist – AKA. Sokurah, 2012.
The music was written by Alan Bostrup – AKA. Space Fractal.
The joypad configuration was lifted from Grid Wars 2 by Mark Incitti (2006).
Copyright and intellectual property for the original game is held by Atari who made the original arcade game in 1982. The original game was programmed by Bruce Merritt.
…also, thanks to my testers; Bob, Jason, Nick & Darryl.
If you get a good score in the game you can upload it to here from the 'Scores' menu,
and have it compared with other peoples scores. Remember to set your name first.


Version history.
v1.0 – October 8th, 2012 –  Initial release.
v1.1 – December 28th, 2012 –  OSX update. Save and load of settings fixed so it'll run from the DMG file without throwing up an error. Also fixed the automatic "search for update" function, which had broken since initial release.