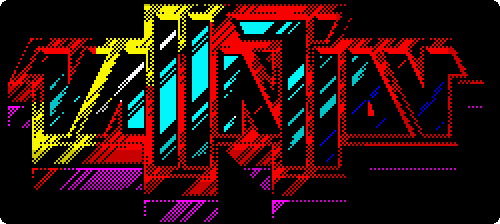 'Vallation' is a maze game set in space. In it you're flying your little spaceship through an enemy complex and trying to escape while trying to avoid getting shot by enemies, colliding with missiles or cut in half by the laser barriers. Only the brave need apply. 😉
| | |
| --- | --- |
| | Download emulator image in TAP & TZX format for ZX Spectrum emulator. (54KB) |
| | 128K version. Download emulator image in TAP & TZX format for ZX Spectrum emulator. (83KB) |

Current version v1.1 (released July 14th, 2016)
128K version v1.0 (added November 2nd, 2020)

Like so many other of my games this is a remake – a Cyberoid style game that has the player attempting to escape from a space pirate base whilst taking out as many of the vile enemy scum as you can. The original C64 game was made by
Jason Kelk aka. Cosine
, for the
RGCD C64 Cartridge Development Competition 2013
and I immediately wanted to make a Spectrum version of it…and here it is. 🙂
This version has shooting enemies (not present in the C64 version) and 30 screens more than the original version.
Here's a couple of screenshots from the game;

Video (by Enrique Garcia) of the game. Go to the 4 minute mark to see the game in action.
Gameplay description:
Your mission is to escape the pirate planet. Move through 101 screens spread over 4 levels and see if you can find the way out. Mind the missiles – they can't be destroyed…and be very careful around the enemies that will shoot at you the moment they see you. You'll have your hands full.
Installation:
Unpack the ZIP file and you'll end up with a TAP file and a TZX file. They can be used with a Spectrum emulator. I recommend ZXSpin (free) and Spectaculator (commercial) – they can both be found on The World Of Spectrum.

Controls:
QAOP and SPACE to control the game.
Quit game using SHIFT+SPACE.
All keys except QUIT can be redefined. No joystick controls available.

Legal Blurb
:
This game is FREEWARE and must remain freeware. I would also ask that the game will only be available from this website or from
The World Of Spectrum
.
Version history.
v1.1 – July 14th, 2016
Extra info.
There is a small bug in the spriteroutine. Very rarely when you shoot an enemy a block of corrupted graphics will be left in it's place instead of it being removed [should be fixed now]. When that has happened it'll keep happening so it's best to just quit the game (using Shift+Space) and start again. It doesn't affect gameplay and won't make the game crash, but while you can move through it you can't shoot through it. There is also a couple of other small glitches like flickering sprites on certain screens and the occasional shot not being deleted and left on the screen, but nothing major. I hope to fix this sometime later.