This is my remake of "Orion" – a 2D mazegame set in space, originally programmed
by Ian Beynon and released for the ZX Spectrum computer by Software Projects in 1983.
| | |
| --- | --- |
| | Download for Windows XP and above. (3.0MB) |
| | Download for Mac OSX (Intel). (3.4MB) |
MAC OSX note:
Please be aware, that the games I've ported to OSX doesn't run on newer OS's. I bought my MacBook Pro in 2011 and have never updated it, so I can assure you that the games still work. BUT Apple has removed "Legacy support" from their operating systems, and since the language I've used hasn't been updated to support newer OSX versions, the games won't run on on newer and updated machines.
For information on the original game, go to World of Spectrum.
First, 2 Screenshots from the Original Spectrum game:


Recognise the game? – Ok, here's the same two screenshots from the remake;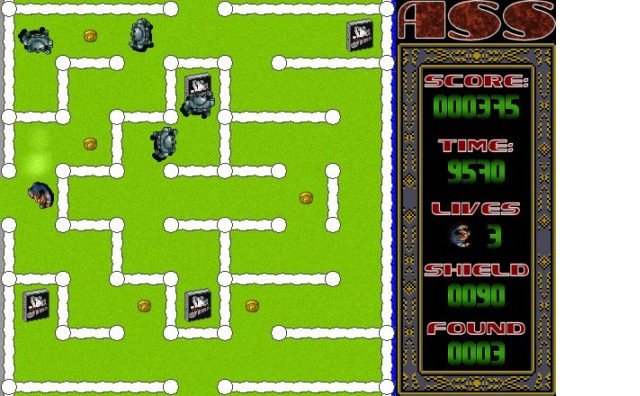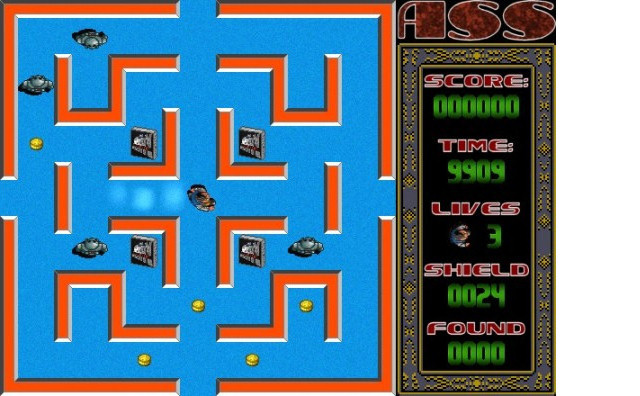 INSTALLING & RUNNING THE GAME

Just unzip all the files into a directory and run the EXE file.
CONTROLS

The menu is easy to navigate using the
ARROW KEYS
or
SPACE
, and then
ENTER
to select.
It takes 5 keys to play the game –
LEFT
,
RIGHT, UP, DOWN
and
SHIELD
;
– default keys are
ARROW KEYS
, and
SPACE
to activate your shield.
You can also use
QAOP
and
SPACE
to control the game.
To end a game in progress, or exit the game and return to Windows, use the ESC key.
INSTRUCTIONS
"You are Dave, and you have to walk around the Shiny headquarters and collect all your games which has been scattered all around the offices."
You have to collect all 100 games to complete the game. You can also pick up money, which will give you more points, but too much of a good thing will make you blind, so after taking a coin, you won't be able to see where you're going…until you collect another game – or an extra life. Even more of a good thing is even worse – because if you take two coins in a row, you will loose a life – you have to pick up a game for each coin taken. Of course, you don't have to collect the coins, but they're usually laying all over the place…and very often in your way. You do have a personal shield for protection though. It doesn't recharge very quickly, but if you activate it you can destroy the robots that a patrolling the levels.
So it's a maze game – everybody knows how to play a maze game, right? In a nutshell – move around the maze, avoid all the enemies and collect a bunch of items. When you have collected enough items, you will have completed the game.
COMPARISON BETWEEN REMAKE AND ORIGINAL
The reason I chose to remake Orion is because I wanted to learn a new programming language and needed a small project with only a minimum of graphics and levels, that I could do in no time – just for fun – as a side project to my more serious remakes.
Since the original Orion game is a pretty simple game, I decided to have a little fun with it and change the story from some …space plot, into a more goofy plot, that hasn't got anything to do with the original, while still being the same game. The 'Advanced Simulator' part of the title was inspired by the series of 'Advanced Lawnmover Simulator' crapgames from World of Spectrum and the Dave Perry angle because…well, the world just needs a Dave Perry game.
😉
As a challenge to myself, I wanted to finish it as fast as I could. I wanted to see if I could do it in a week. I knew I would have to cut corners because finishing a game that fast doesn't leave much time to perfect the resources, so I decided early on that I'd rip most of the graphics and the sound, so I could concentrate on the coding. The game ended up taking 10 days to complete though. Being made in such a short time means it's a bit light on features. No redefinable keys option is present.
This is my easiest game. It can be completed in under 10 mins…if you're good. 🙂
…oh, and being able to call it ASS was just a lucky coincidence. 😀
LEGAL BLURB
This game is FREEWARE and must not be sold. It can be distributed
as you want, as long as all the files are present and unchanged.

COPYRIGHT
The original game was designed and programmed by: Ian Beynon in 1983.
This remake is programmed by S. Borgquist, aka. Sokurah, in 2007.
The music and most of the graphics in the game are not original and have been ripped from somewhere else.
Any updates to this game will be available for download from Tardis Remakes.
Do you have any comments, questions, praise or feedback about this remake?…
– email me (email found on the 'about' page).