This is my remake of a classic vector graphics shoot'em'up from 1981.

In this game you control an "Omegan Space Fighter", and attempt to destroy waves of enemy droid ships.
Battle takes place on a rectangular "track". Player's ship bounces off invisible walls of track.
For information on the original game, go to  "Killer List Of Videogames" (KLOV)
First, 2 Screenshots from the Original arcade game: (click to enlarge).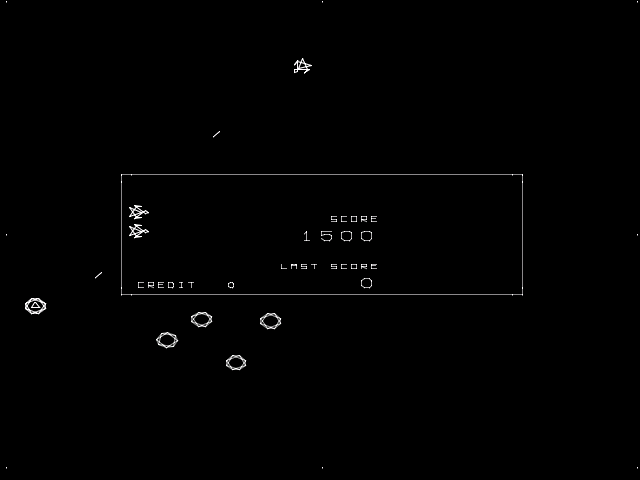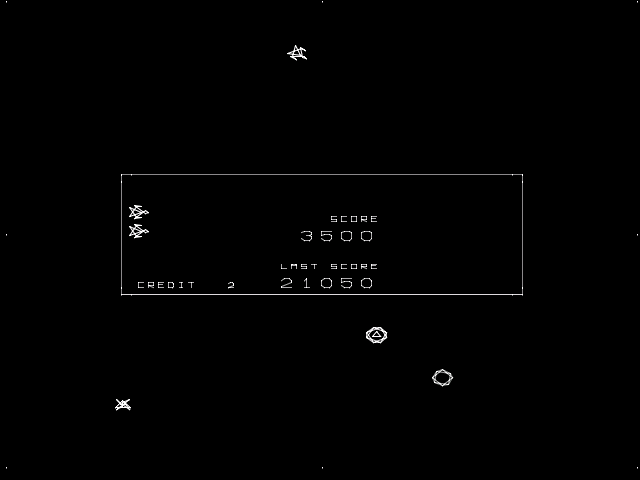 Recognise the game? – Ok, here is three screenshots from the remake;
This first picture is from the default color mode (pictures reduced – click to enlarge).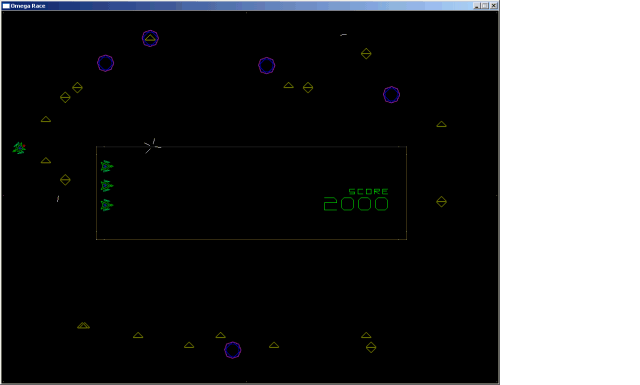 …for that added "retro feel", you can chose to have monochrome graphics instead.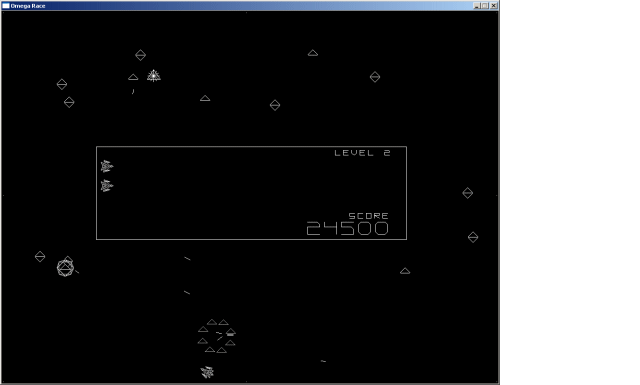 You can also use a backdrop, if you want to add more color to the game (default).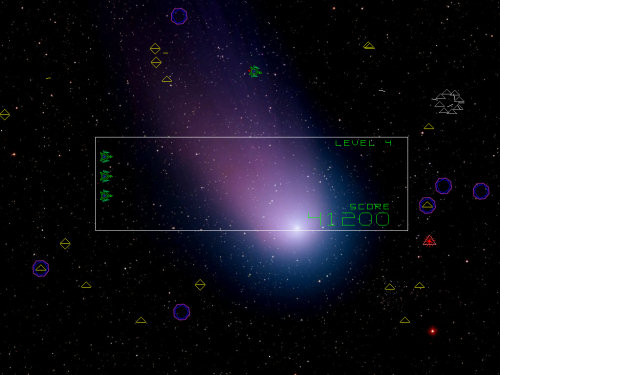 CONTROLS
Start the game with the
ENTER
key.
Leave the game and return to the menu, or Windows, with the
ESC
key.
Use the LEFT and RIGHT arrow keys to rotate your spaceship..
Use ALT to thrust and CTRL fire at anything that moves (and if if doesn't move, shoot it anyway).
INSTRUCTIONS
A Challenging Chase In Space! Omega Race is a classic vector arcade game. This game takes place on a single screen with a large square in the middle that displays your score, lives and other information (This information square also serves as huge obstacle). You control a spaceship that moves much like the ship in "Asteroids". You zip around the perimeter of the score area zapping several different enemy types while avoiding mines. Gameplay is very fast paced, it usually takes under a minute to complete each level.
TRIVIA
Omega Race was Midway's only vector game created. It was designed as a direct response to Atari's "Asteroids", released two years earlier. Omega Race differed significantly from Asteroids in a few respects. First, there was no "wrap-around" (where you exit on one edge and return to the opposite edge). The walls would stop the player's fighter if it impacted them. Second, all the information such as high score and ships left were in a box in the middle of the playing field. Last, you could be expected to encounter multiple attackers in each wave. Although Omega Race wasn't a big seller, it still created a following. Unfortunately, this game came out when games such as "Pac-Man" were at their peak.
FEATURES
Backdrop ON/OFF
Color or monochrome graphics
Difficulty Normal/Easy
Sound ON/OFF
Redefinable keys
Joystick/Gamepad option
Run in fullscreen or window.
COMPARISON BETWEEN REMAKE AND ORIGINAL
This remake was never intended to be "visually stunning". The only goals I had was to make a game that played well, had crisp hi-res graphics, was a good clone of the original, moved in a way that was identical (or very close) to the arcade game and had absolutely no external resources except for sound files. Late in development I added the option to have a backdrop though – just to make it look a bit more modern. The included backdrop can be replaced by placing a new picture in the game folder. The file should be a JPG file, 1024*768 resolution, named "backdrop.jpg". The backdrop can be toggled on/off using F1 during game.
The game will start off being relatively easy, then increase in difficulty until you reach level 10. Once you get there you don't want it to get harder anyway, since you'll be too busy trying to stay alive.
COMPUTER REQUIREMENTS
The game is developed on a 2.8GHz Pentium 4 and tested on 4 different computers with those general specs, and it runs just fine on those computers. I've run it successfully on a 933Mhz Pentium 3 with an Intel 82815 graphics card and I've had reports of it running fine on a Celeron 300-A with a Nvidia RIVA TNT 8Mb graphics card. Safe to say that it's not too demanding.
LEGAL BLURB
This game is FREEWARE and must remain freeware. The game can generally be distributed however you want, as long as all the files are included and unchanged. It shouldn't be sold but I would like to ask, that if you'd like to include this game on a CD for a magazine or somewhere else, that you contact me first – I would like to know what kind places my little project goes….also it shouldn't be asking too much, but then I'd also like a copy of the magazine or CD.
COPYRIGHT
The original arcade game was designed and programmed in 1981 by David Lawerence Murphy (for Arcade Engineering)
– his initials can be seen at the top of the highscore table in the original arcade game.
The remake is programmed entirely by me, S. Borgquist, in 2006. The sound resources used in the game are taken from the original game using emulation, and the picture used as a backdrop were found "somewhere" on the net.
Any updates to this game will be available for download on this page; http://tardis.dk
Upload your highscore from the game and see how you compare to other players: