This is my remake of Rip Off – originally from 1980.
It was the worlds first game, for more than one player, with cooperative play.
The possibility of 2 simultaneous players has been retained in this new remake.

In this game, for one or two players, you control a tank-like vehicle and have protect fuel canisters from the game-controlled "pirate" tanks. Pirate tanks hook-up and drag the canisters off screen. The game speed and difficulty increase with each successive wave until all the canisters have been "ripped off".
For information on the original game, go to "Killer List Of Videogames" (KLOV)
Here's is three screenshots from the remake (pictures reduced – click to enlarge).
This first picture is from the menu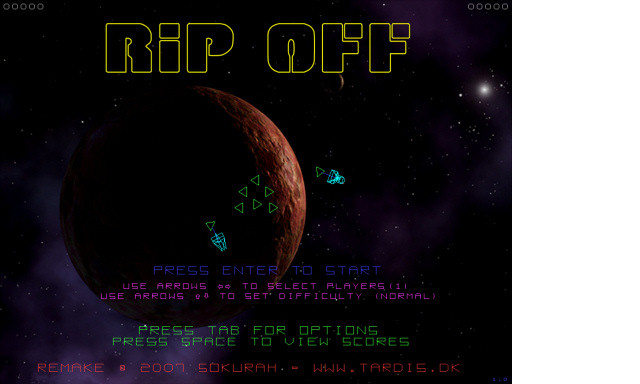 …for that added "retro feel", you can chose to have monochrome graphics instead and/or no background.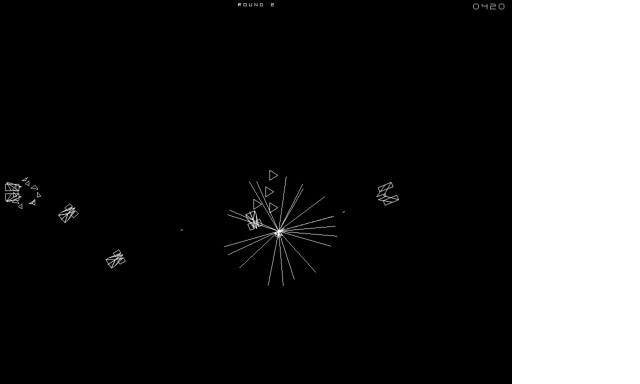 There's plenty of options to select or deselect in the settings menu.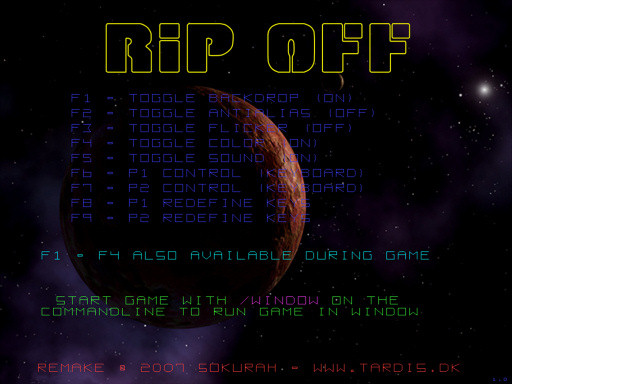 CONTROLS
Player 1
Rotate left-right:
cursor keys left
and
right

Thrust:
cursor key up
Fire:
left ctrl.
Player 2
Rotate left-right: A,D
Thrust: W
Fire: T
All keys can be redefined. Digital joypads are also supported.
DETAILED GAMEPLAY
As a single player game, Rip Off is quite difficult. The game attempts to correct for the lack of a second player by attacking with fewer pirate tanks during the first few waves, but this doesn't fully make up for another player. All too often, when a pirate laser blast blows you up, you'll lose one or more fuel canisters in the time it takes to get back out on the screen.
The two-player mode is what makes Rip Off such a unique game. The players play in a cooperative, rather than competitive manner. With two players, various strategies can be employed to cover as much area as possible against the invading tanks. Ideally one player should always remain on the screen to protect the fuel.
The ability to destroy your own tank in order to wipe out an enemy tank also provides an interesting twist to gameplay. Sometimes it can be more effective to collide with the pirate and destroy both tanks than to risk being shot by the pirate and have your last fuel canister stolen. This strategy is generally only effective in a two player game.
COMPARISON BETWEEN REMAKE AND ORIGINAL
This was one of my absolute favorite games back in the early 80's so I wanted to remake it, using the same kind of vector graphics that hypnotised me back then. This version is not a 100% exact clone though, as I've taken a few liberties.
* There are no bonus rounds. I didn't really see the point of them.
* This version is a bit faster than the original, and is a bit more arcadey because of it.
LEGAL BLURB
This game is FREEWARE and must remain freeware. The game can generally be distributed however you want, as long as all the files are included and unchanged. It shouldn't be sold but I would like to ask, that if you'd like to include this game on a CD for a magazine or somewhere else, that you contact me first – I would like to know what kind places my little project goes…also it shouldn't be asking too much, but I'd also like a copy of the magazine or CD.
COPYRIGHT
The original game was programmed by Tim Skelly and released by Cinematronics in 1980.
This remake is programmed by S. Borgquist – aka. Sokurah in 2007.
Music is courtesy of Oddbob from Retroremakes.com
In-game sounds are taken from MAME.
The picture used as a backdrop were found "somewhere" on the net.
If you have any comments, questions, praise or feedback about this remake? – email me (email found on the 'about' page).