This is my remake of "Spiky Harold" – a classic 2D style platform game originally
released for the Spectrum and Amstrad computers by Firebird Software Ltd in 1986.

Disclaimer: This is an old game and I have found that it runs very fast these days…possibly to a degree that it could be unplayable. If you make sure your screen refresh rate is set to 60Hertz that might help a bit. Just be aware that it's not designed to run as fast as it probably does. It's also very difficult and that is because of too little time spent on gameplay tweaking. If you can complete it you must be truly awesome. LOL. Let me know what you think.
In the game you control the hedgehog, Harold, who needs to collect a bunch of
food items before he can return to his cave and hibernate for the winter.
This game was my entry into the Retro Remakes Competition 2006.
For information on the original game, go here "World of Spectrum" (WoW)
First, 2 Screenshots from the Original Spectrum game:


Recognise the game? – Ok, here is the same two screenshots from the remake;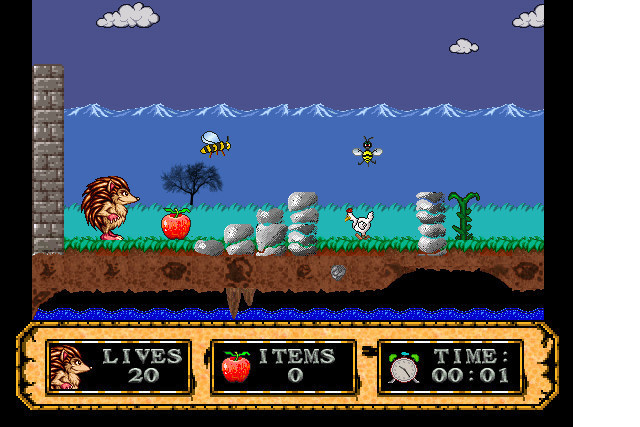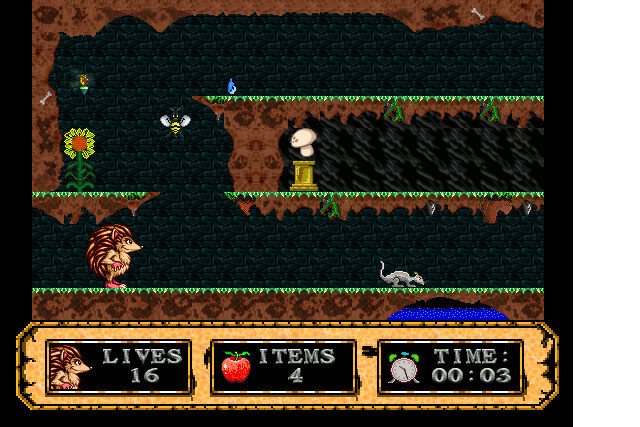 INSTALLING & RUNNING THE GAME
Just unzip all the files into a directory and run the EXE file.
Make sure you preserve the correct folder structure when you unzip
– the game expects to finds its resources in the 'data' folder.

CONTROLS
The menu is easy to navigate using the ARROW KEYS or SPACE, and then ENTER to select.
It takes 3 keys to play the game – LEFT, RIGHT and JUMP;
– default keys are LEFT & RIGHT ARROWS, and ARROW-UP to jump. These 3 keys can be redefined.
To end a game in progress, or exit the game and return to Windows, use the ESC key.
In rare cases you can get stuck in a platform if you jump into another screen; – in that case, press F1 to free yourself.
The game supports the use of a gamepad or joystick. Select it from the menu first.

INSTRUCTIONS
"Harold needs to go into hibernation for the winter, but first he needs to collect enough food to last him until springtime."
It's a platform game – everybody knows how to play a platform game, right? In a nutshell – move around the maze, avoid all the enemies and collect a bunch of items. When you have collected enough items, find Harold's cave and go to sleep.

FEATURES
Difficulty Normal/Easy
Separate Sound and Music settings
Redefinable keys
Joystick/Gamepad option
Run in fullscreen or window.
Cheatmode
COMPARISON BETWEEN REMAKE AND ORIGINAL
If you have played the original game then you know that it was bloody difficult. I was very fond of the Spectrum version of this game 20 years ago, but either my reactions aren't as good as they once were, or I just don't have the same patience as I used to, because upon revisiting the original Spectrum version I found that it just seems too hard to control.
I could never complete the original game today. I'd be too annoyed.
So I decided to make this version a lot easier to play.
The primary change to make it easier, was to change the controls and that's why you'll notice that this game controls slightly differently from the original. In addition there's also an easy mode, where you have a healthbar as well as lives.
LEGAL BLURB
This game is, according to the rules of the Retro Remakes Competition 2006, FREEWARE and must remain freeware and can generally be distributed however you want, as long as all the files, including this one, are present and unchanged.
I would like to ask though, that if you use this game on a CD for a magazine or somewhere else, that you contact me first – I would like to know what kind places my little project goes…also it shouldn't be asking too much, but I would also like a copy of the magazine, CD or whatever, as a memento.

COPYRIGHT
The original game was designed and programmed by: Andy Rodgers in 1986.
The remake is made exclusively for the Retro Remakes Competition 2006 and programmed programmed entirely by S. Borgquist, aka. Sokurah, in 2006. Most graphics in the game are also by me, and so are the sound effects.
Special thanks goes to Carnivac who took time out of his busy schedule to design and draw the harold sprite for me.
– for that I'm very grateful.
Any updates to this game will be available for download on this page; http://tardis.dk
Do you have any comments, questions, praise or feedback about this remake?…
– email me (email found on the 'about' page).