This is my remake of an Project Future – an arcade-adventure set on a giant spaceship.
The original game was released in 1985, for the ZX Spectrum and Amstrad computers.
(Size: 15 MB)


The SS FUTURE is a vast Space Ship, covering 256 screens and spread over 5 different decks. The map has a network of teleporters which allows you to move around the map faster than just by foot. Hidden in the labyrinth are 8 destruct codes which must be collected before the SELF DESTRUCT SYSTEM can be activated. Once the SELF DESTRUCT SYSTEM on the SS FUTURE has been activated you must escape before detonation.
Here are two screens from the original Spectrum version;


…and a single screen from the original Amstrad version;


Here are two screens from the remake;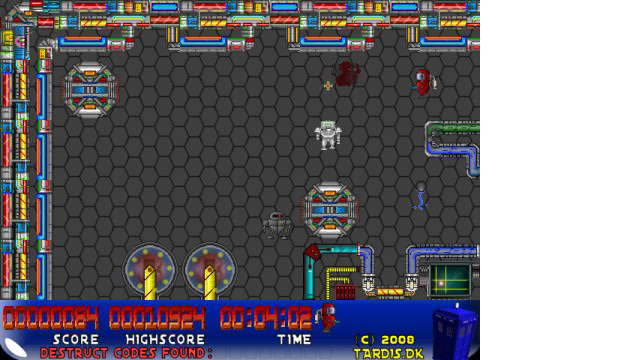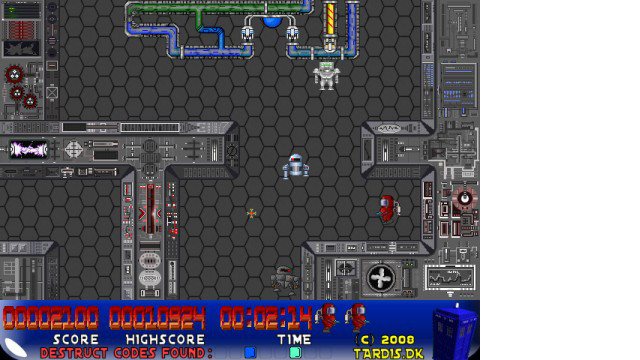 INSTALLATION
Unpack all files into the same folder and run the executable file, that looks like a spacehelmet.
The game will run in fullscreen mode, but will run in a window if '/window' is specified as a parameter.
CONTROLS
Use arrow keys or QAOP to move around
Use left ctrl or space to fire.
All keys can be redefined. Digital joypads are also supported.
ESC is used to pause/cancel the game, and will also allow you to save a game in progress.
Press FPS on the menu and the game will display the framerate.
In case you get stuck in the scenery somewhere;
– press left shift+F12 to display the screennumber – then report it to me.

MISCELLANEOUS
This game is actually my second game, but released as my 7th game. I began work on it in december 2004 and had the game finished by september. All I needed to do now was the graphics.
…now, 2½ years later, and after more than 3 years in total, the game is finally finished. Has it been worth the wait? Probably not. I can't say I'm 100% satisfied with the end result…perhaps only 90%. I've had to cut corners here and there, but all in all – I'm pretty satisfied and this will work just fine as a 1.0 version.
I'm working quite slowly when it comes to drawing and most of those 2½ years was actually spent doing nothing but stressing over the amount of graphics I still needed to do (and actually completing 5 other games as well.) I'm very grateful for those who helped me with the graphics though. You're all fantastic!
This version is a lot faster than the original game – it's more arcadey. Get used to it…
Sometimes, if the enemies aproach you from the left, you can actually stand still and have the monsters line up right beside you and not attack you. This is a problem with the pathfinding I never got around to fixing, but generally you shouldn't have time to stand still anyway. Consider it a feature.
LEGAL BLURB
This game is FREEWARE and must remain freeware. The game can generally be distributed however you want, as long as all files are included and unchanged. It shouldn't be sold but I would like to ask, that if you'd like to include this game on a CD for a magazine or somewhere else, that you contact me first – I would like to know what kind places my little project goes…also it shouldn't be asking too much, butI'd also like a copy of the magazine or CD.

COPYRIGHTS
The original game was programmed by Dominic Wood, with graphics by Julian Wood, and released by Micromania in 1985, for the ZX Spectrum and Amstrad computers.
This remake is programmed by S. Borgquist – aka. Sokurah, 2004-2008
Graphics are mostly by S. Borgquist, with big big help from Janus.
Other contributors are; oddbob, carbonat, smila, pebu & deps.
In-game sounds are taken from various sources.
Music is composed by Infamous.

VERSIONS
v1.0 – February 28th, 2008
* Initial release.