This is my remake of Dingo, my third game made for the Retro Remakes Competition 2008.
The original arcade game was made in 1983 by A.C.G. (also known as "Ultimate Play The Game").
| | |
| --- | --- |
| | Download for Windows XP and above. |
| | Download for Mac OSX (Intel). |
MAC OSX note:
Please be aware, that the games I've ported to OSX doesn't run on newer OS's. I bought my MacBook Pro in 2011 and have never updated it, so I can assure you that the games still work. BUT Apple has removed "Legacy support" from their operating systems, and since the language I've used hasn't been updated to support newer OSX versions, the games won't run on on newer and updated machines.
Dingo is a labyrinth/maze game and you are 'Big Ted' – a panda on a mission.
Your mission is to collect all the fruit on the screen to advance to the next level. Your enemy are the Dingoes – they will try to stomp on you which will cause you to lose one of your three lives. Sometimes the Dingoes will also collect fruit by stomping on it and throw it at Big Ted – which is also fatal.
Luckily Big Ted can defend himself by picking up fruit and use it to throw after the Dingoes. Very hand for survival as it stuns the Dingoes for a few seconds…but a piece of fruit gives you just one shot and you have to pick up another piece before you can shoot again.
However, fruit's no good when it's been thrown around, so every piece that you throw won't add to your score, so it's best to try and clear the screens as fast as possible and only throw as little as you have to.
First, 2 Screenshots from the original arcade game: (click pictures to enlarge them)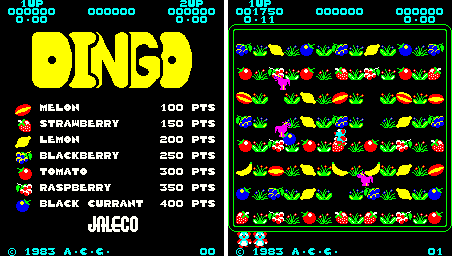 Here's two screenshots from the remake (click to enlarge).
INSTALLING & RUNNING THE GAME
Just unzip all the files into a directory and run the EXE file.CONTROLS
It takes 5 keys to play the game – LEFT, RIGHT, UP, DOWN and FIRE;
– default keys are ARROW KEYS, and LEFT CTRL to fire.
All keys can be reconfigured. Digital joypad is also supported.

To end a game in progress, or exit the game and return to Windows, use the ESC key.

LEGAL BLURB
This game is FREEWARE and must not be sold. It can be distributed
as you want, as long as all the files are present and unchanged.


COPYRIGHT
The original game was designed and programmed by: A.C.G. in 1983.

This remake is programmed by S. Borgquist, aka. Sokurah, in 2008.
Most graphics is by S. Borgquist.
Some graphics and sounds were found on the Internet and tweaked.
The music is by 1nfamousuk.

Any updates to this game will be available for download from Tardis Remakes.

Do you have any comments, questions, praise or feedback about this remake?…
– email me (email found on the 'about' page).
---
If you press SPACE while on the mainmenu in the game, you can upload your highscore to and have it compared with other players. Remember to enter the OPTIONS screen and set your name first.

VERSIONS
V1.0 – Initial release for Windows
V1.1 – A few updates for Windows
V1.2 – More updates for Windows + ported to Mac OSX.