Just in time for Halloween 2006, this is my entry into the
"Retro Remakes Mini-Competition #11 – The Spooky Challenge"

Originally I wasn't going to make anything for this competition but then halfway into
the competition I remembered a screenshot with pumpkins from another game and
thought "Asteroids – but with pumpkins – that's doable in the time left" – so I sat
down and began programming this game, and the rest, as they say, is history.
Screenshot: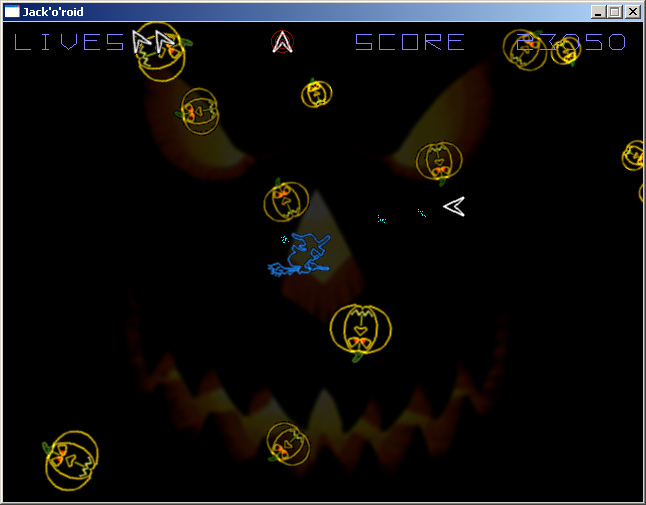 INSTALLING & RUNNING THE GAME
Just unzip all the files into a directory and run the EXE file.
CONTROLS
On title screen:
Start game – Enter or keypad button 1
Exit program – Escape
Settings – TAB
In game:
Rotate Left / Right – Left arrow / Right arrow or keypad
Fire – Spacebar or keypad button 1
Thrust – Up arrow, keypad up or keypad button 2
Hyperspace – Enter or keypad button 3
Exit current game – Escape
Pause game – P
* All keys are redefinable
* Supports digital joypad
The game will default to fullscreen mode, but it can run in
a window as well. Just specify ' /window ' on the commandline.
 
INSTRUCTIONS
…everyone knows how to play Asteroids, right?
– you should by now as there's so bloody many remakes and clones of this classic game.
Fly around and shoot the pumpkins which will then break up into smaller pumpkins.
Keep shooting until they're all destroyed, to advance to the next level. You have to avoid
touching any of the other things flying around, or you will die.
You have 3 lives but get extra lives every 100.000 points. You also have a single
hyperspace on each level to get you out of a tight spot. It will start off easy, but it
will get harder in no time.
FEATURES
Increasing difficulty
Redefinable keys
Joystick/Gamepad support
Run in fullscreen or window.

LEGAL BLURB
This game is FREEWARE and must remain freeware and can generally be distributed however you want, as long as all the files, including this one, are present and unchanged.
I would like to ask though, that if you use this game on a CD for a magazine or somewhere else, that you contact me first – I would like to know what kind places my little project goes…also it shouldn't be asking too much, but I would also like a copy of the magazine, CD or whatever, as a memento.
COPYRIGHT
Asteroids originally programmed for Atari in 1979 by Ed Logg. This remake was programmed for the "Retro Remakes Mini-Competition #11 – The Spooky Challenge" and made in 4 days entirely by S. Borgquist, aka. Sokurah, in October 2006. Some graphics by me, some found on the net. Sounds also found on the net.
Any updates to this game will be available for download on this page; http://tardis.dk
Do you have any comments, questions, praise or feedback about this remake?…
– email me (email found on the 'about' page).