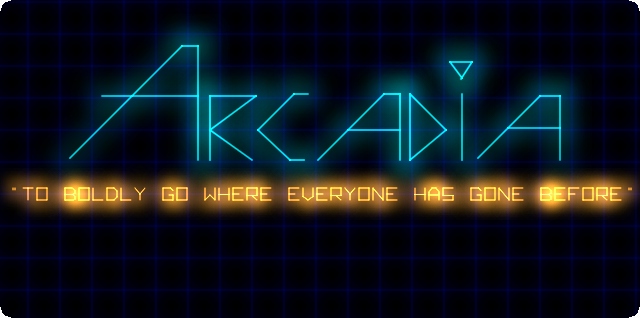 Arcadia is not only a pretty traditional shoot 'em up, but this remake is also a remake of one of the earliest big-selling action games on the ZX Spectrum. There are only two rules; shoot…and survive!
| | |
| --- | --- |
| | Download for Windows XP and above. (1.5 MB) |
| | Download for Mac OSX (Intel). (2.1 MB) |
Current version v1.0 (released October 31th, 2012).
MAC OSX note:
Please be aware, that the games I've ported to OSX doesn't run on newer OS's. I bought my MacBook Pro in 2011 and have never updated it, so I can assure you that the games still work. BUT Apple has removed "Legacy support" from their operating systems, and since the language I've used hasn't been updated to support newer OSX versions, the games won't run on on newer and updated machines.
My projects tend to grow bigger and bigger with each game, so with this game the idea was to remake something simple – something that could be done in no more than two weeks – just for fun, and it shouldn't be a vector game…but I was going to make it as one. A few suggestions was put forward, to my question of what to remake, and I chose Arcadia.
Here's two screenshots from the game.
Gameplay description (from wikipedia and adapted for the changes in this version):
Published by Imagine Software, Arcadia is a Space Invaders style fixed shooter that also took elements of Gorf and Galaxians to create a simple – yet for its time – fast action game. The player controlled a space ship as the aliens scrolled and moved freely down the screen. The game consists of 16 different levels of descending aliens. After level 16 the game looped back to level 1. Advancing to the next level involved staying alive until the timer in the top left corner ticked from 99 to 0, once zero was reached the surviving aliens descended rapidly down the screen.
Points awarded per alien destroyed were in line with the current level: Shoot down an alien on level 1 and you were awarded 1 point, roll around the levels and the same alien killed on level 17 was now worth 17 points. .
Installation:
On Windows; Unpack the ZIP file and you'll end up with a folder called 'Arcadia' which contains the game files. Run the file with the spaceship icon to run the game. The game has been tested on, and works on (at least) Windows XP, Vista & Windows 7. The game will write a configuration file to the game folder. To reset the settings just delete this file. A new one will be written instead.
On Mac; Mount the DMG file and drag the game to where you want it. Run the game from the program which is identified by an icon with a spaceship on it. The game will write a configuration file to your Documents folder. To reset the settings just delete this file. A new one will be written instead.
Controls:
Use the left and right ARROW keys to controls your ship, Left Ctrl to fire and Left Alt to thrust.
All keys can be redefined to whatever you want.
Legal Blurb:
This game is FREEWARE and must remain freeware. The game can generally be distributed however you want, as long as all the files are included and unchanged. It shouldn't be sold or given away on any kind of compilation without my permission. I would like to ask, that if you're going to include this game on a CD for a magazine or somewhere else, that you contact me first – I would like to know what kind places my little project goes…also it shouldn't be asking too much, but then I'd also like a copy of the magazine or CD.
Copyright:
This remake was programmed by Søren Borgquist – AKA. Sokurah, 2012.
Half of the enemies were designed by Craig Stevenson aka. RedBalloon.
The music is free and was found on NoSoapRadio Free Game Music.
The original game was programmed by David H. Lawson and released by Imagine Software (now Atari) in 1982.
Version history.
v1.0 – October 31th, 2012
Initial release.